Robert Pattinson was left devastated when Kristen Stewart turned down his offer to take her away on holiday.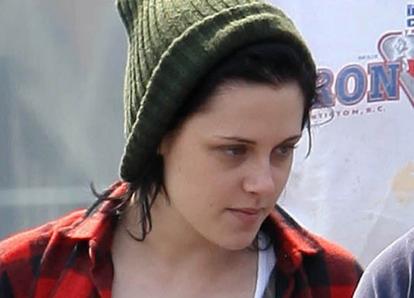 The hunky Brit reportedly told his rumored girlfriend he'd take her anywhere she wanted before they had to fly to Vancouver, Canada, to film the third Twilight flick.
But Kristen, 19, refused Robert's offer of a free vacation.
"Kristen told Robert she's incredibly fond of him, but doesn't want to race into a serious relationship," a source told the National Enquirer. "And she made it clear his constant pursuit is putting too much pressure on her."
The source added that Twilight producers were so worried that Pattinson might blow up his on-camera chemistry with Kristen, "they begged him to chill and give Kristen space."
Twilight insiders recently confirmed Rob and Kristen had "hooked up" — but insisted they weren't boyfriend and girlfriend.
"They've decided to be more public about going out now," said the source. "They're not boyfriend and girlfriend, but they've definitely hooked up."
Meanwhile, Kristen Stewart dons a Born Famous Couture grunge pocket tee as she walks with production crew members to the set of The Twilight Saga: Eclipse in Vancouver, Canada on Wednesday (August 19).
Comments
comments