Kyla Ebbert, who has taken her fifteen minutes and put it to good use, has posed for a nude spread for Playboy and those pictures are now online. She is the 23-year old woman that was booted from a Southwest Airlines flight earlier this year for wearing a short skirt that revealed too much skin.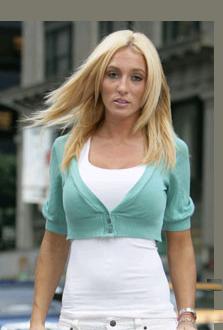 The Hooter's waitress from San Diego appears in lingerie, and in the buff — under a pictorial titled, "Legs in the Air." In the Playboy interview, Kyla Ebbert is asked constantly with two questions after nearly being kicked off a Southwest Airlines flight because the airline staff thought her outfit was too revealing. The first: Were you wearing panties under your skirt? The second: Has Playboy contacted you?"
The answer, to both, is yes. And when Playboy asked her to pose, Kyla's answer also was, "Yes." Now the college student is taking it all off. She has revealed, "Yes, I am a member of the mile high club. And no, it was not on Southwest. It was on a private plane." You could see more of the interview, Kyla Ebbert's lingerie photos and behind-the-scene video of Playboy here.
Perhaps it is a good thing to see one of these girls that gain notoriety for dressing provocatively and flaunting their body in public actually cash in and make a bit of headway with their chance for a bit of publicity.
Comments
comments