Lily Allen has been dropped as the face of Agent Provocateur.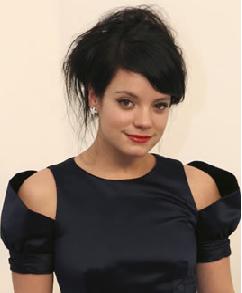 The "Smile" singer was reportedly dumped by the lingerie firm after a disagreement over her pictures.
A friend said, "She was snapped in a corset and stockings with a whip and was said to be "really proud of her new figure."
But she was ditched after Joe Corre, 40, and Serena Rees, 39, who own the business and are divorcing, failed to agree if she was the right girl for the job.
According to a source, Ms. Rees chose Lily but Mr. Corre "wasn't keen". A company spokesman said no decision had been made and the photos may still be used.
Former Agent Provocateur models include Kylie Minogue, actress Maggie Gyllenhaal and burlesque artiste Dita Von Teese. It's been a tough few weeks for Allen.
After tragically suffering a miscarriage last month, Allen and her boyfriend, Chemical Brothers DJ Ed Simons split after a five-month romance just two weeks later.
Lily Allen has also faced criticism over her BBC3 show Lily Allen And Friends, which only attracted 255,000 viewers.
In a recent MySpace posting, she admitted she'd had a "rocky" 2008 so far, but was optimistic about the future.
She added, "I have been miserable lately so I bought myself a new car. It may arrive by the end of the week so something to look forward to. Life is funny isn't it? To think that a Mac Book or a car is going to be the thing to make you feel better. Something will, soon I hope."
Comments
comments