Lily Allen, who was previously spotted topless on a beach, was celebrating her slim line physique with a sultry new photo shoot.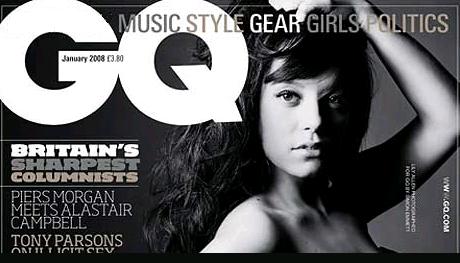 The "Smile" singer made a smoldering appearance on the cover of GQ magazine for its January 2008 edition. You could see her GQ photo here.
The frank 22-year-old singer has revealed how her new health regime, which includes intense workouts and dieting, has overhauled her outlook on life too.
She explains how many of her high profile feuds were fueled by insecurities about her appearance, saying, "A lot of that stuff I said was because I didn't feel confident. I felt like, 'Oh God, I'm short, fat, ugly…and I hate all these people who flaunt their beauty'. Ever since a kid I've felt like I'm possibly the uncoolest, naffest person ever to walk the earth. But I feel great at the moment. I actually don't have one bad thing to say about anything."
Perhaps her new attitude has also been influenced by her new romance since the singer has been dating Ed Simons of The Chemical Brothers for two months and has now decided to set up home with him.
Comments
comments