Lindsay Lohan has been branded a marriage wrecker.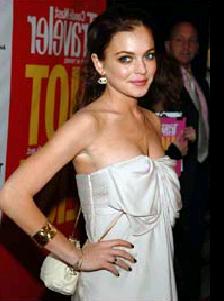 The "Freaky Friday" actress, who is presently being treated for drink and drug addiction at a rehab center, allegedly had sex with Tony Allen in a toilet at the clinic.
Stephanie Allen, the mother of Tony's eight-month-old twins Blake and Lakeland, has been left devastated by the claims and has kicked her husband out of their Georgia home.
A friend revealed, "She's had it, period. They tried forever to have kids. She went through IVF three times and suffered two miscarriages, and when they finally got two beautiful babies, he hooks up in rehab with a girl half his age. He is trying to live out this rock star fantasy at 40. All Stephanie wanted was for him to be a good husband and father."
Recent reports claim Tony boasted to friends about his affair: "Come on, it's Lindsay Lohan. Hell, yes! Wouldn't you?"
However, 39-year-old Tony, who fronts the band Dead Stays Alive, claimed his relationship with Lindsay Lohan is purely platonic.
Comments
comments