Alicia Silverstone has stripped off to show how being a vegan helped her lose weight.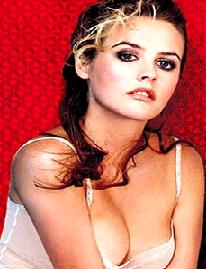 The "Clueless" star is naked in her 30-second US television advertisement for animal welfare campaign group PETA. The actress claims rejecting meat has made her both slimmer and healthier.
The clip begins with Alicia Silverstone sensually pulling herself out of a swimming pool, carefully protecting her modesty with her arms.
It follows with soft shots of the blonde star perched at the edge of the pool with her back to the camera revealing her butt and close-ups of her face.
The 30-year-old actress revealed over the film, "I am Alicia Silverstone, and I am a vegetarian", before claiming, "There's nothing in the world that's changed me as much as this. I feel so much better and have so much more energy. It's amazing."
The PETA advertisement airs on Food Network, Lifetime and E! in Houston, Texas, on Wednesday, before being shown across the US.
Alicia Silverstone also appears in a poster for the campaign, in which she is seen sprawled on the ground in front of the pool, under the words: "I am Alicia Silverstone, and I am a vegetarian."
You could see her photo here
Comments
comments