Lindsay Lohan must have had a rough night. So rough, she decided to divulge all the drama on her Twitter page—at 4 a.m.!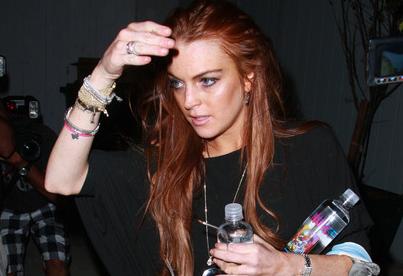 The actress hit up The Palm Restaurant in West Hollywood on Tuesday before ending her night with friends at The Roosevelt Hotel.
At some point during the night she decided to post a series of Twitter rants. The alleged target? On-again, off-again girlfriend, Samantha Ronson!
"Being lied to after being my father's daughter…is miserable, especially when you're finally back on track." Lindsay wrote to a friend, adding, "Miss you mommy, thanks S*******."
Minutes later she continued, "If someone you took a chance on loving—after 3,4,5,7,8,9 times, lied to you tonight…what would you do? Even though you love them…?"
By the way, we've checked Ronson's page, and as usual, the celeb DJ chose not to respond to Lohan's rants, which probably prompted her to write her last post directly to Sam: "Are you picking me up or not?"