Lindsay Lohan reportedly felt jealous this week when hoards of girls threw their panties at DJ Samantha Ronson during a night out in London.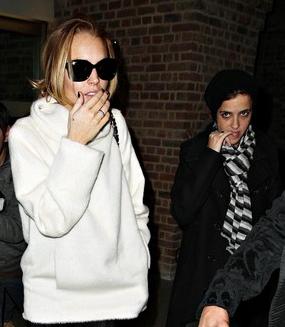 The Mean Girls star partied at London's Chinawhite night spot while girlfriend Sam DJ'd – and earned herself a collection of admirers.
According to onlookers, fans threw their underwear at Lindsay's girl and handed her drinks receipts with their phone numbers written on the back.
This prompted Lindsay to skulk off into the VIP section where she lapped up the attentions of her own admirer.
A source revealed: "Lindsay disappeared halfway through Sam's set."
The source added: "When Sam later found her in their V-VIP booth, this girl was stroking Lindsay's arm and giggling with her."
But the pair had made up by the end of the night, "They went in for a full-on tongue sandwich, their hands all over each other. Nobody knew where to look."
Lindsay Lohan and Sam Ronson followed up their night out at Chinawhite partying at Dolce with celebrity pal Lily Allen.
The Smile star joined the lady lovers on a tour around some of London's hottest venues, starting out at Cipriani restaurant, before moving onto Dolce nightclub and finally Notting Hill Arts Club, where they partied into the early hours of this morning.
Lindsay appears to be keeping up her sober pretense and emerged from Dolce clutching a can of Red Bull, despite looking very worst for wear.
The previous night Lindsay was reportedly disguising her vodka shots in a jug of fruit juice at Chinawhite.
Comments
comments