Lindsay Lohan and Samantha Ronson, who previously reported to have an argument in Dubai, are planning a family holiday together.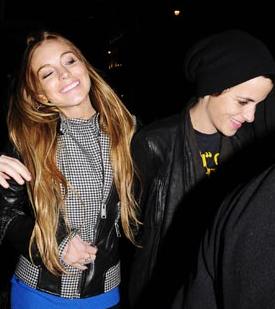 The couple are set to join the DJ's family on vacation and have invited Lindsay's mother and siblings along too, despite not yet choosing a destination.
A source revealed: "Lindsay and Samantha want their families to get to know each other. As long as everyone is together, it doesn't matter where they go. Lindsay has invited her mom Dina, brother Michael and sister Ali. She is really excited about the trip."
Also going on the holiday will be Samantha's brother, producer Mark Ronson, her fashion designer twin sister Charlotte and mother Ann Dexter-Jones.
News of the holiday comes days after the couple denied reports they were having counseling to repair their relationship following a series of rows.
The source said: "They are fighting like cat and dog. Drama just seems to follow Lindsay, and Sam hates it. She deals with Lindsay every day. And every day for Sam means questioning, 'Is this worth it?' "
The pair reportedly had a physical fight in London recently after Samantha became jealous of Lindsay flirting with her former boyfriend, model Calum Best.
A source added: "Calum went up to Lindsay on the dancefloor. Lindsay was lapping up the attention, having a laugh – and a flirt. But Sam saw them and went ballistic. She marched over and started pushing the pair, demanding to know what they were doing. Then it erupted into a catfight, with Sam and Lindsay swearing and screaming like banshees."
The "Mean Girls" star was later seen sobbing outside their hotel in the early hours of the morning.
Meanwhile, Samantha Ronson was recently spotted as she waits for take-off at Los Angeles airport.
The DJ lover of Lindsay Lohan has rarely spent a second apart from the actress since their lesbian relationship came to light. So the prospect of a solo trip overseas may be responsible for the moody look plastered on Sam's face as she chats on her mobile.
Even a cheeky pre-flight cigarette smoking isn't enough to raise her spirits.
Comments
comments