Madonna unofficially confirmed her relationship with Alex 'A-Rod' Rodriguez at her show Wednesday night.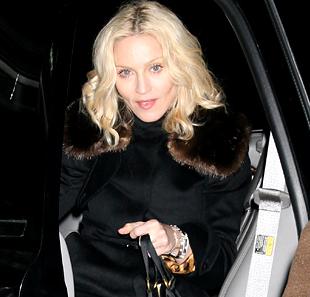 The 50-year-old singer, who was first romantically linked to the New York Yankees baseball star in July, smiled at Alex as he passed her a bottle of water from his seat in the front row of Miami's Dolphin Stadium.
A source revealed: "It was easy for him to hand it to her because he was sitting in the front row. He was all excited watching her perform."
The first photograph of Madonna, whose divorce from Guy Ritchie legally was granted last week, and Alex was revealed yesterday.
Madonna was spotted leaving a private plane in Miami, Florida, on Tuesday morning seconds after baseball player Alex.
Earlier this week, it was claimed Alex is planning to spend US public holiday Thanksgiving with Madonna and her three children, Lourdes, Rocco and David Thursday.
Alex's former wife Cynthia, who has two children with the baseball star, reportedly wrote in an email: "My 6ft, 3in, 220lbs soulless, soon-to-be ex-husband is abandoning his kids on Thanksgiving to be with Madonna. She called and he ran on her command back to New York City – gross!"
However, Alex's representative has denied the claims, insisting he will be spending the festive holiday with his family.