Lindsay Lohan was spotted while relaxing on a beach in Miami as she warmed up to celebrate New Year's Eve.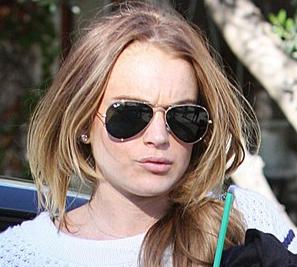 The "Freaky Friday" star met her number one biggest fan during the the time she was soaking up the sun and relaxing with friends. A young boy, who was sporting a pair of Spider Man swimming shorts, ran over to her and kissed her on the check.
Lindsay Lohan seemed delighted with the attention, and was left thrilled by the affectionate gesture.
The 22-year-old actress, who is sporting a pair of gold-framed sunglasses, smiled as the youngster embraced her.
Notably absent from the beach was Lindsay's girlfriend Samantha Ronson.
The couple were spotted together days earlier in Florida shopping for sexy lingerie, plus a new black and gold chain halter neck bikini which Lindsay Lohan wore to the beach today.
Comments
comments