Hollywood actress Lindsay Lohan has defended her outspoken father Michael despite of his verbal attacks against the star's girlfriend Samantha Ronson – insisting her dad is not a "bad guy".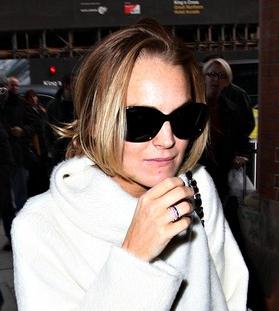 The "Freaky Friday" star lashed out at her estranged father earlier this year, branding him a "bully" and a "coward" after he rallied against her relationship with the British DJ.
He later apologized for his description of Sam Ronson as a "dark, hideous and a disgusting representation of humanity".
But the actress admits she's grown accustomed to reading his harsh words about her personal life in the press.
She revealed: "I would love to say it's surprising, but it's not. It doesn't bother me as much as embarrass and hurt me. And put a knife in my back. And it's hard because I was flipping through channels and someone on E! called him a loser. And that's my f**king father! He's not a bad guy. He's just making bad choices."
Comments
comments