Lindsay Lohan, who previously denied the split reports, became the cover girl of Interview magazine for its February 2009 issue.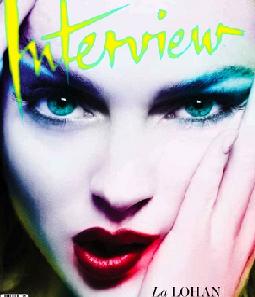 Here are the highlights of her interview:
On the public's misconception of her: "I wanted to be a movie star [growing up]. But movie stars are not what they used to be. When I was a kid, I thought movie stars were women and men who were in these great films that we still look at now. But I don't think there are too many films coming out these days that we're going to look at in the future and say, 'This is one of the great ones.' Like, what is the great film that I will tell my children about? I'm still going to tell them about the old films, the Hitchcock films. And people my age don't even know who those people are. I can't even have a conversation with most people of my generation about that, because they'd be like, 'Okay, she's a freak. Something's wrong with her.' And the worst part is, in terms of what people see of me, I have become this girl who just loves to be photographed, doesn't know how to focus, doesn't know how to work on set, just loves the attention, knows how to go out at night, knows how to party."
On being in Hollywood to act, not to become a celebrity: "I just feel as though it's become a situation where people have manifested this caricature of who I am, and they act as if there's no real person inside of it. I mean, people really have come to believe-directors, producers, agents, whoever it may be-that I started in this because I wanted to be a celebrity. But that was never my intention."
On not getting the same opportunities as other actresses: "But it's so impossible for me to actually [go someplace where no one knows me]. When I was in Dubai, there was still press lined up around the hotel. So I find it close to impossible to actually do that. I mean, it is what it is. This is what I asked for, and in this day and age that's what actually goes on. But what hurts me the most is that I work just as hard as any other actress around my age, like Scarlett Johansson, but I just don't get the opportunities that they get because people are so distracted by the mess that I created in my life. But that doesn't mean it's going to last forever."
On her impression of Pharell Williams: Pharrell Williams. He's an amazing guy. He's only been really kind to me whenever I've met him.
To read the full Lindsay Lohan interview pick up a copy of Interview magazine's February issue, on newstands January 20th.
Comments
comments