Lindsay and a few pals were chilling at Mott Corner Deli, and upon exiting, the Machete star realized she had left her phone inside the restaurant.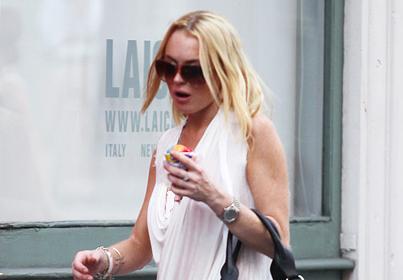 When she returned to collect her beloved phone, the deli worker told that he had to watch the security cameras in order to verify her story.
This was way too much for Lindsay to handle. So, she did what any normal 23-year-old would do. She called the cops!
The NYPD finally arrived to settle the super-important situation, but by then, the employee and LiLo had worked it all out.
The best part? The worker had no idea who she was! Love it.
In related news, LiLo has once again reconciled with her father Michael Lohan after months of cutting off communication with him.
Speaking about their reunion at a charity event in the Hamptons last weekend, Father Lohan told press, "Lindsay called me up and invited me to come to the event. She told me she was going to the event and when she saw me, I walked up and kissed her and we walked over to a corner and sat down at a table together. We were happy to see each other."
Michael also confessed that he was too quick to judge Lindsay's girlfriend Samantha Ronson. "I had a talk with Samantha and I was wrong, I jumped the gun. I realized that all the things I'd heard about the drugs and the partying were a lie. I mean, she knows I'm Christian and there are certain things I don't agree with. Maybe she was afraid that I would look at their relationship in the wrong way. But that's not for me to judge. If my daughter's healthy and happy and in a good relationship, I'm happy for her."
Comments
comments