Just a week after her break-up with Samantha Ronson was confirmed, Lindsay Lohan gets her wrist tattooed at the Shamrock Social Club and her hair dyed at Byron and Tracey Salon.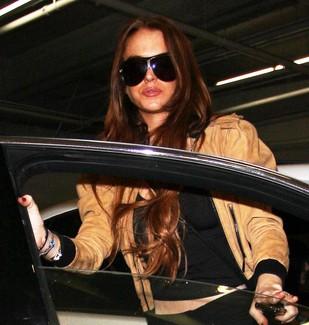 Just a week after confirming her break-up with DJ Samantha Ronson, Lindsay Lohan stopped by Shamrock Social Club in West Hollywood around midnight on April 8 to get her wrist tattooed. Waiting patiently in line accompanied by her younger sister Ali Lohan, the actress were snapped all smiling at the tattoo parlor.
It is still unclear what Lindsay, who left the venue at around 3 A.M., etched on her wrist. It is also not known whether the new tattoo is inked on her right or left wrist.
Prior to her visit at the tattoo parlor, Lindsay, Ali and their mother Dina were all seen dining at West Hollywood's Nobu. The group reportedly took a seat in the corner of the main dining room. She reportedly was "stressed out and anxious but didn't drink any alcohol, instead opting for a few edamame and bites of a cucumber salad."
A source furthermore revealed that before exiting the restaurant, Lindsay was approached by Frankie Delgado but "seemed uninterested as Delgado attempted to give her an awkward smooch on the cheek." The source shared that "The Hills" actor, who recently denied flirting with Rihanna, "ended up kissing her hair instead" following her not-so-quite welcome response.
Beside getting a new tattoo, Lindsay has also dyed her hair back to its original color, red. She got it done at Byron & Tracey Salon in Beverly Hills the next day.
Comments
comments