Lindsay Lohan has been offered a part in 'Machete'.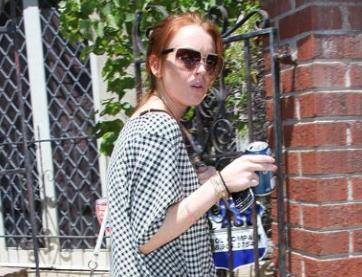 The 23-year-old actress – who recently turned down a role in the successful comedy 'The Hangover' – has been approached to star alongside Danny Trejo and Michelle Rodriguez for a part in Robert Rodriguez's new movie 'Machete'.
According to the National Ledger website, the 'Planet Terror' director is very keen to work with the US starlet on the project.
Speaking about his latest cinematic offering, he said: "These things come together very quickly. We're casting right now, and the script just came out."
A trailer for the movie – which is about an illegal immigrant – was recently released and Robert is thrilled with the positive response.
He explained: "I was thinking it had to live up to the trailer, because the trailer was so well received. But the script far surpassed the trailer."
Lindsay is believed to have financial troubles after struggling to land a major film part for sometime.
Meanwhile, the troubled actress has been caught on video having another blazing row with her on/off girlfriend, DJ Samantha Ronson at the weekend.
Lindsay spent two hours sitting on her 31-year-old lover's doorstep with an unknown woman until Samantha turned up at 5am.
The tearful actress sobbed: "Samantha, where were you? You lost it, what's wrong with you."
Lindsay then shouted at her acquaintance: "Stop! Stop!"
Samantha said: "Who is this person?"
Lindsay – visibly upset and confused – replied: "I'm your girlfriend!"
The DJ continued to ask Lindsay who the female was and asked why she had told her to "stop".
When Lindsay said the "friend" had tried to touch her, Samantha demanded she left immediately.
Lindsay ignored her requests and continued to ask where her girlfriend had been.
Samantha shouted: "I was with my sister."
Lindsay replied: "You're lying."
Samantha added: "Yeah, I'm lying!"
After the aggressive exchange the pair finally entered the house and slammed the door behind them, while the unknown female caught a taxi home.