Lindsay Lohan opens up about her heartbreaking split from Samantha Ronson, the "humiliating" weekend showdown with Ronson's family, and says that friends' fears she is suicidal are unfounded.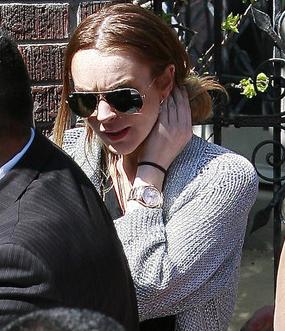 On several lengthy phone calls and emails where she was both agitated, crying and baffled by the turn of events, the "Mean Girls" actress revealed: "It's absolute hell."
Ronson broke it off with her girlfriend of nearly two years last Friday, and hired five security guards to keep Lohan out of an afterparty for her sister Charlotte at the Chateau Marmont.
"The worst night of my life," Lohan — who was staying directly one floor above the Ronsons with her mom Dina and sister Ali — said.
The next day, Ronson changed the locks on the Hollywood Hills home she shared with Lohan. On Monday, Ronson's mom and sister asked police about obtaining a restraining order against Lohan, Beverly Hills Sgt. Nutall confirms.
"I'm not a bad person and this is what happens," Lohan told Us through tears. "I was raised to treat people well, and I'm so tired of this drama."
Lohan says she's "so alone" without Ronson.
"Everyone's turned on me," says the actress. She tells the magazine that the night of the Chateau showdown, Nicole Richie walked by her and said "Uck," and Drea De Matteo said, "Come at me, bitch."
"I'm a f–king 22-year-old girl who's in love," she says. "I felt like I was in Mean Girls, but worse: Mean Girls was a movie."
Sources tell the magazine Ronson had repeatedly tried to break up with Lohan over the past month, but each time, "Lindsay threatens to kill herself — she cares about her but wants out."
Lohan laughs upon hearing that, saying she's okay.
"I'm just really hurt!" she says. "The whole situation is sick."