Lindsay Lohan, who previously celebrated her birthday last week, was believed to receive a gift worth a $22,000 Cartier diamond ring to Lindsay Lohan.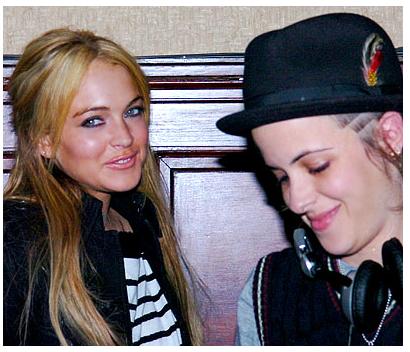 Samantha Ronson and Lindsay Lohan are speculated to be in a relationship.
A source revealed, "Sam took Lindsay shopping to celebrate her 22nd birthday. Although Lindsay [Lohan] is the major breadwinner, Samantha Ronson has her own money and is very proud."
The source continued, "It's not an engagement ring – simply a token of her commitment. Lindsay is thrilled and she and Sam are very content."
Lindsay Lohan celebrated her 22nd birthday on July 2 with a bash at Teddy's in Hollywood at which Ronson was amidst the 100 guests.
The next morning, speaking over the phone on Ryan Seacrest's KIIS-FM show, Lindsay revealed, "I just want to live a happy, healthy year and continue on the path I've been on and be with the person I care about and my family."
Her statement was widely interpreted as an admission of a relationship with Samantha Ronson.
Lindsay Lohan, who has been spending a lot of time with Samantha Ronson lately, was seen pecking her on the lips during their visit to Cannes for the film festival.
Their families have also been bonding. Late last month, Lindsay and her sister Ali were seen enjoying lunch with Samantha and her writer mom Ann Dexter-Jones.
Lindsay Lohan's mom, Dina, revealed, "I'm friends with [Samantha's] mom. She's raised some extremely talented kids. It's a talented family."
Samantha Ronson is co-owner of the New York City nightclub The Plumm, along with actor Chris Noth, David Wells and Noel Ashman, among others. She is the sister of music producer Mark Ronson. Her twin, Charlotte Ronson, is a fashion designer.
Comments
comments