Miley Cyrus enjoyed a fun filled day out with friends and family at Universal Studio Hollywood on Tuesday, July 8, where she enjoyed the new Simpson ride.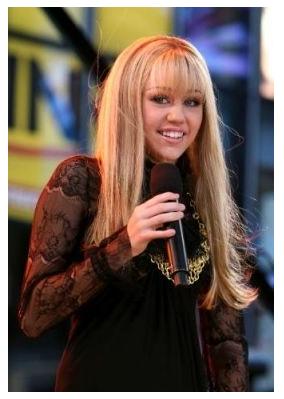 The ride, which opened on May 19, 2008, uses state of the art technology, including computer generated 3D animation, a new projection system, new hydraulics and cuts down on its energy consumption.
The teen sensation was accompanied by her mother and manager, Tish, and 8-year-old sister Noah.
In her recent interview with People, the 15-year-old actress, described herself as the "coolest person ever.
The actress revealed, "Really, I think I'm chill. I am very hyper, but I'm very carefree."
The "Hannah Montana" star also revealed that Madonna inspired her. The actress said, "Madonna always reinvents herself, and that's what I want to do. Whatever comes my way that sounds good, that's what I want to do. Whether it's designing clothes or photography or whatever."
She admitted that she was excited about the release of her second studio album, "Break Out", due in stores July 22.
She continued, "My last one, "Meet Miley Cyrus", was more just meeting me, finding out who I am, and here it's more getting in depth of what's been going on in my life in the past year."
She is proud of the fact that she has written all but two of the songs in the album. She added, "I just hope this record showcases that – more than anything – I'm a writer."
Miley Cyrus released the single – 7-things – from Breakout, last month. The lyrics of the song enumerate the seven things she hates in a boy she loves. She said that the song was "like a little therapy moment for me."
Comments
comments