Lindsay Lohan and Samantha Ronson have been overheard fighting again.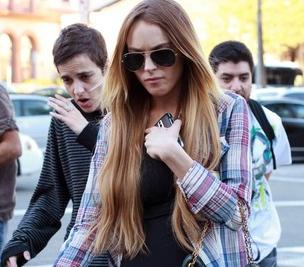 The couple were embroiled in a heated exchange at DJ Samantha's Hollywood home that was so loud it could be heard from the street.
A source said: "The noise was pretty frightening. It was the two of them screeching at one another, and you could hear stuff being banged around too – it sounded like a lovers' quarrel, but a pretty bad one!"
When an angry-looking Lindsay, 22, emerged from Samantha's house hours later, she reportedly phoned the police from the end of the road to ensure she wasn't followed by paparazzi.
Earlier this week, Lindsay's father Michael Lohan claimed the 31-year-old DJ is a destructive influence on his daughter.
Michael – who has promised to stop criticising Lindsay's relationship on his blog – said: "Before I go, however, I must say that I received a text message from a dear friend of Lindsay's.
"The text said, 'From what I hear, from Lindsay's nearest and dearest friends, Lindsay is worse off than ever since she has been with Sam.' "
Michael alleges Samantha is only dating Lindsay to boost her bank balance and blames her for ruining Lindsay's career.
Comments
comments