Lindsay Lohan was spotted walking around on the set of her film "Labor Pain."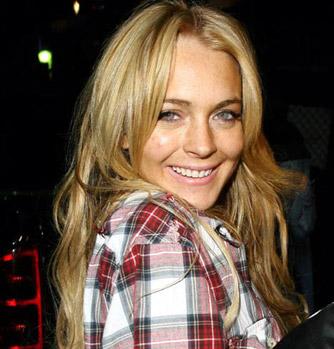 The actress, which you could see her stunning abs here, was unabashedly holding up the bottom of her sports tee to air herself. She exposed her perfectly shaped mid-riff to the cameras, on Thursday, June 19, in California.
The thick fabric of her sports shirt must have bothered her, as she took a break from filming to enjoy a cigarette. Lindsay Lohan appeared in good trim, and may have finally put the substance abuse problems that plagued her last year behind her.
In the film, she plays a young secretary who pretends to be pregnant in order to avoid being fired by her mean boss, and then continues the pretense for nine months to enjoy the special treatment accorded to her by her friends and family on account of her pregnancy.
Lindsay Lohan, who rose to stardom with roles in films like Freaky Friday, Confessions of a Teenage Drama Queen, Mean Girls and Herbie: Fully Loaded, wants to make a mark as an actress with an Oscar.
She recently opted not to have her guest appearance on the season 2 finale of ABC's Ugly Betty considered for an Emmy award.
A representative for the actress revealed, "The appearance was brief. We made a decision to wait."
Lindsay Lohan, who played an old schoolmate of America Ferrera's character Betty Suarez in the show, will appear in five more episodes next season.
Comments
comments