Jonas Brothers has attracted a lot of fans. And there are a lot of girls who loves to know more about them.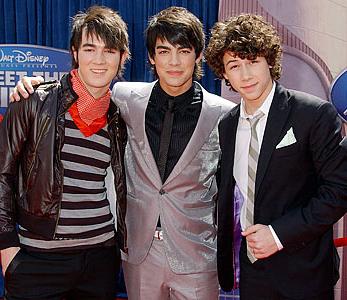 The siblings have been dishing on the kind of girls they are looking for.
Kevin, the eldest keeps it simple, revealed, "It's a girl you can talk to on the phone and it be okay that you're not always there."
Joe, 18-year-old middle brother, is a little more demanding, and loves his mom. He revealed, "[I look for] somebody who is really good to mom, somebody who likes to have fun."
He is also picky with good manners, saying, "It's really important that when they walk into a room, they don't only greet the people they think they're supposed to greet, but they greet everybody."
He doesn't make it easy, you could say.
Nick, 15, is, of course, too young for all this.
Remember, the siblings wear purity rings, which they did not take off even when they were filming for "Camp Rock", Disney Channel's made-for-TV musical that airs on The Disney Channel at 8PM ET/PT on Friday, June 20. So they are committed to abstinence.
Comments
comments