Lindsay Lohan 22, is speaking out about her sobriety and her relationship with girlfriend Samantha Ronson, among other things.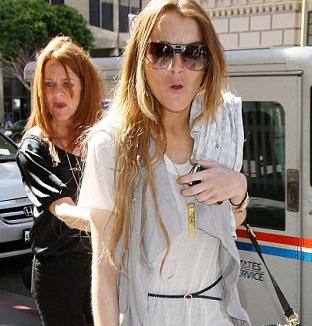 On her romance with the 31-year-old deejay, the actress revealed: "They need to stop saying we're fighting. People telling lies about me to her and all this garbage. I'm really a good person and I have a good heart and just want to work. The only reason I go to clubs is to hear Samantha spin or be normal."
The actress urges people not to believe everything they read, saying: "I don't drink, I don't do drugs and I don't lie. I love to act and write and be creative, and I want to help people by playing characters that can send a positive message out to whomever may need it."
On trying to tune out all the chatter about her personal life and focus on her career, she said: "I move forward and I change. Life's too short not to. If people would just leave my personal life alone – because it's really not that interesting – then I could land a great role. But all the sicko fans and the noise is so distracting."
On many goals she wants to accomplish, she added: "I'd like to have my own charity, do work overseas, be in Oscar-nominated films, write movies, produce movies/shows/videos, design cloths, make music, write books. It's all possible if people would just stop judging me and accusing me and making me out to be this aloof, spoiled, ungrateful and unprofessional person that I am not and could never be."
Meanwhile, more car trouble for the actress after assistant crashes her $100,000 Maserati.
The 22-year-old was being driven to the Los Angeles district of Glendale by her assistant in her new $100,000 white Maserati when it collided with a Subaru in front of them.
Although no one was hurt in the accident and the two parties calmly swapped insurance details, Lindsay was clearly upset her new car's bumper had been damaged just two weeks after she bought it.