Stepping out to run a few errands, Lindsay Lohan was spotted leaving Samantha Ronson's Hollywood home on Tuesday (July 7).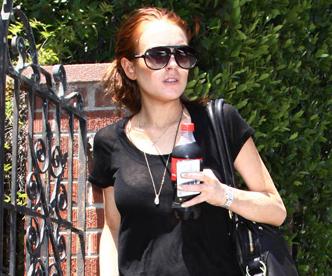 Wearing a sheer black top with short shorts and heels, the "Mean Girls" starlet has once again found herself in a legal predicament – as she's being sued for allegedly stealing the formula for her sunless tanning spray.
A St. Petersburg chemist named Jennifer Sunday filed the lawsuit in Tampa, Florida Federal court against Lohan and Lorit Simon, a Las Vegas businesswoman who partnered up with Lindsay on the Sevin Nyne venture.
Of the lawsuit, Miss Sunday's attorney told press: "It was initially envisioned [Sunday] would manufacture the product and ship out the spray to Ms. Simon's company. Now we see Ms. Lohan taking credit for having created Ms. Sunday's formula and product."
Meanwhile, LiLo has since denied the claims, tweeting, "Leave it to Perez Hilton to put out FALSE information. No formula was stolen for Sevin Nyne. It's a woman looking for a payday. That's it!"
Comments
comments