Lindsay Lohan won't be in court Monday to respond to a warrant for her arrest but her lawyer will be there.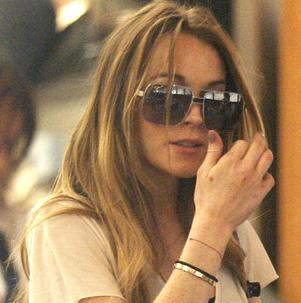 Attorney Shawn Chapman Holley said on Sunday that she will appear in court on behalf of the 22-year-old actress.
A Beverly Hills judge issued the warrant Friday. It carries a $50,000 bail.
Holley said she believes the warrant was issued as the result of a misunderstanding and that it should be cleared in court.
A spokeswoman for the district attorney's office said the warrant apparently has something to do with Lohan's probation.
The "Mean Girls" star was sentenced to three years probation following a pair of DUI arrests in 2007. Since then, Holley said, she has complied with all court orders.
Violations could include failing to complete a drug test or not reporting to her probation officer.
Lohan was arrested Memorial Day weekend 2007 after her Mercedes-Benz hit a tree in Beverly Hills. She was arrested in Santa Monica a few weeks later after the mother of her former personal assistant called 911 to report that her car was being chased by an SUV driven by Lohan.
The actress pleaded guilty to two misdemeanor counts of being under the influence of cocaine, no contest to two counts of driving with a blood-alcohol level above .08 percent and one count of reckless driving.
She spent 84 minutes in jail and was ordered to perform community service and undergo drug-rehabilitation treatment.
She was warned at the time that if she violated her probation she could face up to a year in jail on each of the drunk-driving and cocaine charges and 90 days on the reckless-driving charge.
Meanwhile, cops arriving at Lindsay Lohan's house after someone called about a domestic disturbance. Reportedly Lindsay was arguing and threw something through a window. The cops knocked on the door and after 10 minutes they left after talking to her on the phone.
Comments
comments