Prince Harry turned up at Raffles nightclub in London on Friday with the garish varnish on the nails of just one hand, his left.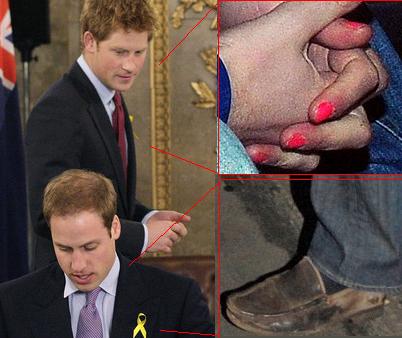 Although the bizarre fashion trend has been sported by celebrities including Al Pacino, David Beckham and comedian David Walliams, guests at the club said Prince Harry's painted nails were the source of much hilarity and gossip.
Whether he had done it to mark Comic Relief day – or even to go with the red striped boxer shorts that poked above his jeans – remained open to speculation.
One guest revealed: "No one knows why he'd painted his nails and the fact that he'd painted only one hand was even stranger."
The guest added: "It looked most bizarre and Harry seemed a bit embarrassed by it. He kept slipping his hand in his jeans pocket."
Although he was trying to keep a low profile, the Prince's unusual fashion statement caused him to stand out like a sore thumb. He arrived at the nightclub on Kings Road alone just after midnight and headed straight for the club's VIP area upstairs.
According to sources at the club, the young Royal was escorted into the venue by a Royal protection officer and stopped briefly to chat with Arabella Musgrave, Prince William's former girlfriend.
A fellow guest said: "[Prince] Harry arrived quite late at about 12.30 and didn't even acknowledge the bouncer when he lifted up the access rope. He clearly wanted as little fuss made as possible about him coming to the club so no one knows why he was wearing pink nail varnish."
The fellow guest added: "He spotted Arabella across the dancefloor and they chatted for a while, then [Prince] Harry was shown upstairs. There weren't many people up there, but he didn't want to be in the main area. He had some drinks with a few friends and left at about 3.30 in the morning."
Prince Harry, who was drinking Vodka Red Bull and Vodka Apples during the night, will no doubt be removing the nail varnish before he returns to his Army training ground at Middle Wallop, Hampshire, tomorrow morning.
The 24-year-old, who is training to be a helicopter pilot, is allowed home at weekends.
Just last week the Prince was pictured leaving Raffles with 27-year-old party girl Astrid Harbord before taking her home to Clarence House.
There was, however, no sign of the pretty blonde on Friday night and friends insist that their relationship is platonic.
The Prince is still single after splitting from his Zimbabwean girlfriend Chelsy Davy two months ago.
The pair are in constant touch and met up recently, although Royal sources say they are not back together.
A friend revealed yesterday "[Prince] Harry and Chelsy are playing games to try to make each other jealous. [Prince] Harry and Astrid are friends but there's nothing going on. [Prince] Harry still really misses Chelsy but they both know they've got too much on their plates to be together at the moment."
Clarence House last night declined to comment.
Meanwhile, Prince William was also partying on Friday and looked distinctly down at heel.
Guests were surprised to see him wearing a scuffed and dirty pair of loafers at Kitts club in Sloane Square.
The 26-year-old danced with friends, but girlfriend Kate Middleton was absent.
Comments
comments