It was another sleepless night for Lindsay Lohan and her former lover Samantha Ronson.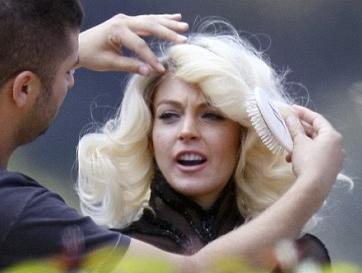 After spending the early hours of Wednesday morning locked in a tearful confrontation the former couple obviously decided they hadn't yet had their fill – and repeated the experience all over again.
Photographers waiting outside, their cameras at the ready, reported that Lindsay only turned up at Ronson's house at 2am Thursday morning.
A screaming row was clearly audible outside at 4am, before the two apparently calmed down. Lindsay eventually left the house at 6am, with Ronson heading out not long afterwards.
The previous evening Lindsay had chased her ex-lover across LA before finally tracking her down at 2am and demanding a late-night discussion.
The 22-year-old had searched for Ronson at Cecconi's restaurant and the Dark Room club, where Ronson had just been, before moving on to the DJ's Hollywood home.
She was seen going into the house and witnesses claim to have overheard the pair discussing their relationship in loud voices.
The "Mean Girls" actress finally emerged on Wednesday morning wearing different clothes and appeared in no mood to talk to photographers.
She started off Tuesday night arriving at Cecconi's restaurant in Beverly Hills, where she dined with a friend before moving on to new venue the Dark Room on Melrose Avenue.
The star asked photographers if Samantha was inside the venue and looked disheartened when they told her she had left.
Lindsay was further upset when she learned from photographers that Samantha had been with another woman.
After arriving at Ronson's home in the early hours of Wednesday, the women could be heard arguing.
Witnesses said they could hear Lindsay crying and asking Ronson to 'come to me'.
Lindsay was devastated when Ronson ended their relationship on April 4, claiming the break-up 'came out of nowhere'.
Comments
comments