Lindsay Lohan had a whirlwind trip to Las Vegas the other day to see girlfriend Sam Ronson, and it ended with a fight, Lohan being ditched by Ronson and a stranded bodyguard.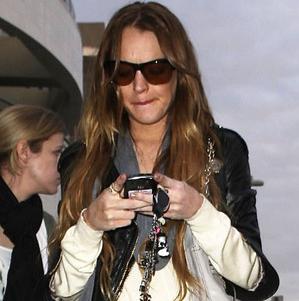 According to a report Monday, Lohan, along with a bodyguard, drove to Vegas to surprise Ronson, who was deejaying a gig:
Ronson, who frequently battles with the younger Lohan, wasn't so happy to see her. They fought and Ronson took off immediately after her set – causing Lohan to flip out and run out of the club screaming, "Did she [bleep]ing leave me?" Lohan then jumped in her car and took off in pursuit of Ronson, leaving her befuddled bodyguard stranded. Our spy said, "The poor guy was last seen on the curb in front of Prive Las Vegas frantically texting on his BlackBerry, trying to find a way back to LA."
Cameramen following Lohan caught some of the aftermath, including the following tape. Despite the incident, the couple were back together Wednesday night.
Meanwhile, Samantha Ronson is said receiving a new 300,000 dollars SL65 AMG Black Series Mercedes-Benz from Lindsay Lohan. Mike Walker from National Enquirer claims that the "Labor Pains" actress purchased the new car for her DJ lover when the twosome appeared at the BevHills montage sponsored by Mercedes-Benz.
In the middle of the gig, an excited LiLo pulled Sam off the stage, took her outside the building, and pointed at the shining Mercedes-Benz car. "You see that beautiful car, Sam? I just bought it for you!" the "Spirit in the Dark" singer exclaimed.
Comments
comments