Lindsay Lohan was spotted as she was leaving Ritz Carlton hotel with her mother Dina Lohan on November 20.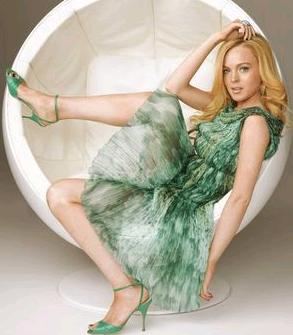 The recently rehabbed "Freaky Friday" actress sent a strong message to her fans and family by opting to spend Thanksgiving with her mother and father in New York City.
The 21-year-old actress wore black skinny jeans, black leather high boots and a scoop neckline black tight sweater underneath a black leather aviator jacket with brass buttons. She accessorized her outfit with a knitted gray, white and brown color scarf, large silver hoops, a long silver chain in the neck and a broad black and white striped tote bag.
Lindsay Lohan left LAX for New York City on Saturday. While in the city she plans to alternate between her apartment at the Atelier building in New York City and her family home at Long Island.
Her mother Dina revealed, "Lindsay is home. And my son Michael is home from college. We all have so much to be thankful for!"
Lindsay's father Michael Lohan also revealed, "I'm glad Lindsay's back here in New York with her family and she has her mom and dad, who both support her."
Her boyfriend Riley Giles was seen with Lindsay Lohan after she arrived at NYC.
Comments
comments