Lindsay Lohan was spotted having the embarrassing wardrobe malfunction at MTV Movie Awards.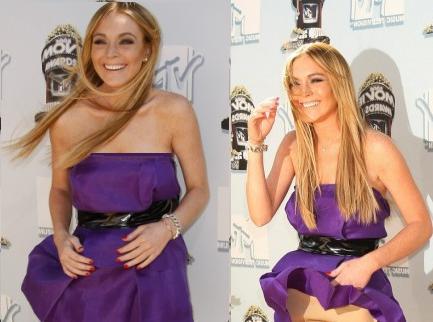 The "Freaky Friday" actress flashes her underwear, which you could see here, after being caught off guard by a gust of wind at the MTV Movie Awards in Los Angeles last night. She led the Young Hollywood charge on the red carpet.
The other celebrities who attended the prestigious movie awards event: Mike Myers and presenter Will Smith, Paris Hilton, Rumer Willis, Megan Fox, Jennifer Hudson, Charlize Theron, Anne Hathaway, Sarah Jessica Parker, Liv Tyler, Lauren Conrad and Heidi Montag.
Johnny Depp, who emerged as the only multiple winner, first took the stage to accept the best comedic performance award for his turn as pirate Jack Sparrow in Pirates of the Caribbean: At World's End. He also took the second award as a best villain for Sweeney Todd, saying, "You can ask anybody, I'm not a very funny person."
The 17th annual MTV Movie Awards, a fan-driven event with none of the stuffiness or significance of the Oscars, took place in a hilltop theater that overlooked the smoky remains of well-known movie sets and a King Kong attraction.
Transformers won the top award, best movie, and director Michael Bay said he would start shooting a sequel to the hit action movie on Monday.
2008 MTV MOVIE AWARD WINNERS:
Best Movie – Transformers
Best Male Performance – Will Smith, I Am Legend
Best Female Performance – Ellen Page, Juno
Best Villain – Johnny Depp, Sweeney Todd: The Demon Barber of Fleet Street
Best Comedic Performance – Johnny Depp, Pirates of the Caribbean: At World's End.
Best Fight – Sean Faris, Cam Gigandet, Never Back Down
Best Kiss – Briana Evigan, Robert Hoffman, Step Up 2 The Streets
Best Brakthrough Performance – Zac Efron, Hairspray
Best Summer Movie So Far – Iron Man
Generation Award – Adam Sandler