Linday Lohan's wraith-like appearance this week while shopping with her sister, Ali, in Los Angeles has shocked even some of her closest friends, according to sources.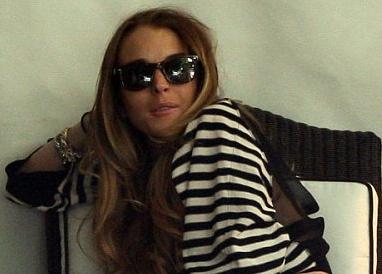 "She is a self-destructive person," says a source close to Lohan. "It's all part of her cry for attention. She wants Sam [Ronson, her ex-girlfriend] to see how bad she's hurting and she wants Hollywood to see her as a 'tortured artist' who is wasting away … This is a symptom of something much bigger – a desperate need to be noticed."
The cry for help appears to be working, at least to an extent. Lohan has spoken publicly about her recent breakup, telling Ellen DeGeneres on her show April 23 that the split "came out of nowhere." And yet the pair continue to spend time together.
On Thursday, Lohan visited Ronson at her Los Angeles home for about six hours. According to a source, "Lindsay had her assistant drive her to Sam's house around 1 p.m." When Lohan left six hours later, the source says, she looked "very happy."
While Lohan may have looked happy, her extremely thin appearance is cause for worry among friends. "When Lindsay is off-balance, she'll pull out every issue you can imagine," says another source close Ronson. "She doesn't eat. She stays up all night and sleeps all day, so she misses meals. When she is doing good, when she is happy, her appetite is healthy and her weight is healthy."
Lindsay Lohan's representative said that the actress' thin frame is not cause for concern, saying, "Her weight is fine." And a Lohan friend scoffs at reports that the star is spiraling downward and that her weight is alarmingly troublesome. "Lindsay has been in a very good place," says the source.
On Friday, Ronson changed her Facebook relationship status from "single" to "It's complicated." Of the switch, the source close to Ronson says she changes things on her Facebook page all the time as a joke. "It would be crazy to base any real information on what she has there. She is single. Tomorrow it might say she is married to Tom Cruise, you never know."
Meanwhile, another source says the Ronson family is "stressed out by the relationship." "Lindsay is so controlling that she could have had all the Ronson siblings be on her side if she was nice to them, but she always had to be in charge of the situation," says the source. "If they are on their way to Gucci, she will make them all go to Prada."
Even going to a bar or restaurant is cause for strife. "She has to go to the one she wants," says the source. "She will have a fit if she is not riding shotgun [in the front seat]. And if she doesn't get her way, she will complain and harass until she gets her way."
As for the couple continuing to talk, that's no surprise, says the source. "Samantha's not a mean person who would ditch her," says one. "She doesn't hate her – it's just too much."
Comments
comments