Lucy Pinder has hit the cover of Maxim Magazine February 2008.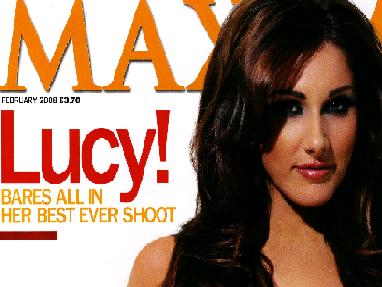 The glamour model, which is popularly known for her sexy curves, posed for sexy shots for the magazine with the catchy lines: "Lucy: Bares all in her best ever shoot."
In the interview, she was asked Buying presents for your girlfriend is a bloke's worst nightmare. Using your womanly expertise, tell us how the following item go down: a set of Russian dolls? She answered, "Hmm, maybe if it was a kinky set with girls in pretty underwear? That would go down well." You could see her sizzling shots in the magazine here.
She admitted she smokes, saying, "I know it's horrible and I want to give it up, but at least I'm not sort of alcoholic junkie."
She also lists some of her dislikes as clowns, wasps and racism. She is an ambassador for Kick 4 Life, a charity that uses football to fight poverty and disease in the developing world. She is also a lifelong Southampton Football Club supporter.
Comments
comments