Madonna, who hit the headlines with her divorce, found marital breakup to be tough but she felt grateful that her heavy workload "provides a distraction that keeps me going."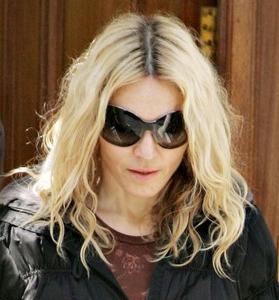 The pop icon revealed: "I'm sad about my personal life, but I feel very blessed and very lucky that I have the opportunity to do what I do in my professional life."
She added: "It would be horrible if I was just thinking about getting a divorce and had nothing to do."
Last week, Madonna and Guy Ritchie were granted a preliminary decree of divorce after eight years of marriage.
Among her current projects is promoting her documentary "I Am Because We Are," which explores the impoverished African nation of Malawi, where more than 1 million children are orphaned by AIDS. The film has its TV premiere on Sundance Channel Dec. 1.
Meanwhile, Madonna is reportedly furious Alex Rodriguez dropped out of Kabbalah training because he was "bored".
The 50-year-old singer has so far failed in her attempts to get her rumored boyfriend Alex to share her interest in Kabbalah, a mystical off-shoot of Judaism.
A source at New York's Kabbalah Centre, where baseball star Alex had been attending private classes with spiritual leader Eitan Yardeni, revealed: "He hasn't even finished Kabbalah 1 (the introduction to the study of Kabbalah) and the majority of the time he has spent with Yardeni so far was for counseling, not study."
Madonna, whose bid to get Guy interested in the religion failed after he branded it "weird" and "hokum," is now said to be considering whether to proceed in her relationship with Alex.
The source added: "This is certainly off-putting to Madonna. She did drag Guy into Kabbalah, she's doing the same now with Alex. But he's bored. He's basically a Kabbalah school dropout."
Comments
comments