Madonna and Guy Ritchie apparently put aside their differences as they visited a Kabbalah Center yesterday.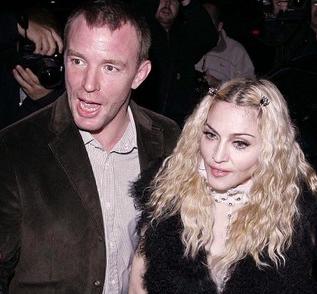 The pop icon and her estranged husband arrived, and left, in different vehicles.
But both were at the center at the same time, along with children Lourdes, Rocco and David.
They were seen walking outside the center, near London's Oxford Street, with Rocco leading the way, Guy and David following, and Madonna and Lourdes lagging behind.
Recent meeting comes after the divorcing couple called a truce for Christmas and struck a deal to spend the festive season in Britain.
Madonna returned to England the day before Christmas Eve – for the first time since the couple split.
She met her husband in London to hand over their sons. Minutes later he headed for the £10 million Ashcombe House estate, which he has taken ownership of as part of their divorce settlement.
The boys and Guy enjoyed a traditional family Christmas, while Madonna and Lourdes remained in London. The singer does not celebrate the holiday.
On Boxing Day Guy returned his sons to Madonna, before picked up David to take him to the Kabbalah center. The two then joined the rest of the family at Madonna's house and Guy was not seen leaving until the next day.
After returning to his flat to freshen up yesterday he then made his way to the Kabbalah center, where he was joined by the rest of the family.
The couple, who were granted their decree nisi in London last month, have joint custody of their sons.
But although a financial settlement has been reached and their estate divided up, the pair are still fighting over where their children will live.
Comments
comments