Madonna, who has sparked divorce reports, is reportedly stopping Guy Ritchie's plans to give their children a first traditional Christmas.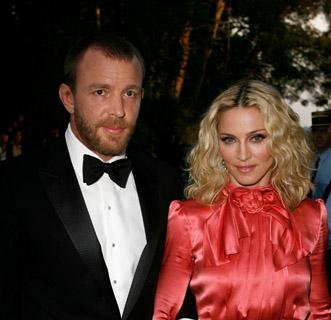 Guy Ritchie, 40, wanted to treat Lourdes, Rocco and David to a customary Christmas celebration, which is forbidden by Madonna's Kabbalah religion.
The pop icon wanted the kids to stay with her on Christmas Day.
A source revealed: "Christmas doesn't exist in the Madonna household because of Kabbalah. Guy will be really looking forward to introducing the kids to Christmas for the first time."
Although Guy Ritchie revealed last year how the family had stopped celebrating Christmas, he wanted the kids to have some normality in their lives including a traditional English Christmas.
The source explained: "He always liked Christmas but went along with it as it was what Madonna wanted and he did want to stay true to Kabbalah. But as time has gone on, he thinks the kids are missing out and he's determined that things change. He won't go overboard because that would just confuse them. But he will just want to treat them to a low-key day but with proper festive fun nonetheless. What he wants more than anything though is to actually be with the kids at that time of year and he just hopes Madonna can compromise."
The source described their Christmas 2004 was particularly somber: "Instead of family visiting them, the artist Tracey Emin came and they all ate steamed fish. It was dour and joyless to say the least."
The source added: "Guy has taken a lot from Kabbalah and any talk of him being against it now is rubbish. But he's also very much a British traditionalist and he would love to pass on some of the flavor of a traditional Christmas to his kids."
Divorce lawyers are now frantically trying to sort out a compromise. Guy revealed last year how the family had stopped celebrating Christmas. He said then: "And ever since [we] stopped the presents, we're actually enjoying it."
Comments
comments