Madonna has reassured the father of her adopted son, David Banda, that the little boy's future is safe despite her impending divorce.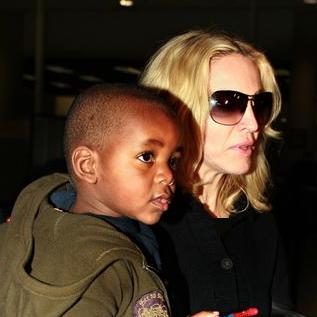 The singer sent a message to Yohane Banda in Malawi explaining that her marriage to film director Guy Ritchie has broken up.
Custody of the the star's children, including three-year-old David, is said to be a major bone of contention between the warring couple.
However, Madonna dispatched Philippe van den Bossche, executive director of her charity Raising Malawi, to visit Mr. Banda and allay his fears.
Mr. Banda revealed: "The meeting was between me, Philippe van den Bossche and a female translator from the orphanage. He told me that the aim of the meeting was to tell me the latest developments in the marriage between Madonna and her husband, Guy Ritchie.
He continued: "They told me it is true there may be a divorce, but that currently they are sorting out issues in court. I had never met Madonna's representatives since my child was taken by Madonna so for me this was a big opportunity. Philippe told me that Madonna herself will come soon to explain to me everything, but that for the time being I must stay calm because the welfare of David will be well looked after."
He added: "I welcome the opening of lines of communication between me and her because I believe they will help iron out a number of concerns that I have had for some time."
Mr Banda placed David in the Home of Hope orphanage after his wife died. He said that in the event of a custody battle "I would want my son to go to Madonna".
The singer has a son, Rocco, with Ritchie, and a daughter, Lourdes, from a previous relationship with personal trainer Carlos Leon. She is reported to be planning a new life in the US, while Ritchie wants the children to remain in England.
Comments
comments