Madonna, who previously reported to follow Christmas rules, has bought £5,000 of wine laced with silver to add a sparkle to her Christmas celebrations.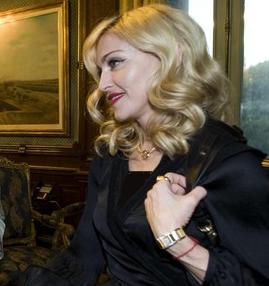 The 50-year-old singer ordered 25 bottles of the 24k Silver wine from a vineyard in Valencia, Spain.
The drink is made with a liquor which has specks of the precious metal suspended in it and is said to be popular in celebrity circles.
Alberto Fernandez, who is the director of the wine producers, Artesanos del Vino, revealed: "We have many rich and famous clients who will serve our product at their Christmas parties. It's made by mixing a liquor containing silver dust into a sparkling rosé."
His company also sells wine laced with gold. He said: "Historically there have always been people looking for an elixir of eternal youth through gold. The Chinese, Greeks, Arabs and Indians all did it."
Madonna may have had help from her father Tony Ciccone, a vintner himself, in sourcing the expensive drink.
He has been running Ciccone Vineyard in Michigan with his wife Joan since 1995 and produces award-winning gewürztraminer and Chardonnay, Pinot Noir, Cabernet Franc, Pinot Grigio and dessert wines.
Madonna is reportedly spending Christmas in England this year with former husband Guy Ritchie, 40, and children Lourdes, 12, Rocco, eight, and David Banda, three.
The couple were granted a decree nisi last month after seven-and-a-half years of marriage.
Comments
comments