Polish fans joined together in song to wish Madonna a happy birthday at a concert in Warsaw Saturday evening just hours before she turned 51.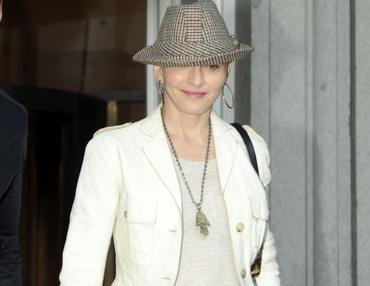 In a break between two songs, a fan held up a sign wishing her a happy birthday and audience members sang, "may you live a hundred years," a traditional Polish birthday song.
"I feel your love!" Madonna told the crowd of tens of thousands gathered on a large green field for the latest stop in her Sticky & Sweet tour.
Many of the fans near the stage also held up paper hearts. One said: "Adopt Me."
Her stop in Warsaw fell not only a day before her birthday, but also on the August 15, the Roman Catholic holiday celebrating the heavenly assumption of the Virgin Mary — timing that angered some Catholics.
Several people who objected to Madonna held up banners outside the concert venue, and a Catholic group tried to spearhead protests in past weeks hoping to force the Material Girl to change the date of the concert. It failed, however, to win support from the official church or the public. Though Poland, homeland of the late John Paul II, is mainly Catholic, young urban Poles have overwhelmingly embraced pop culture and mores.
During the concert, Madonna also paid tribute to Michael Jackson, who died in June.
A Jackson impersonator did the King of Pop's signature moonwalk dance move while wearing a sequined jacket, white T-shirt, white glove and white socks, while a large photograph of him as a boy appeared on stage.
"Let's give it up for one of the greatest artists the world has ever known," Madonna shouted, and then segued into a performance of her old hit "Holiday."
Comments
comments