Madonna and Guy Ritchie have called a truce in their Christmas battle.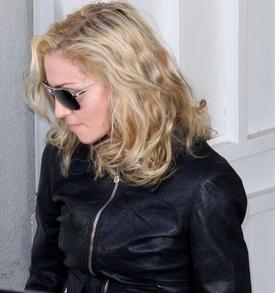 The "Miles Away" singer has agreed to spend the festive period with Guy and the three children the former couple raise together – sons Rocco, eight, and adopted David, three, and 12-year-old Lourdes, Madonna's daughter from a previous relationship – at the British director's Ashcombe House estate, in Wiltshire, England.
Madonna, who is a devout follower of Kabbalah, a mystical off-shoot of Judaism which doesn't celebrate Christmas, will reportedly arrive in the UK on December 23 with the children and will stay for a few days.
A friend of the pair revealed: "Because of what the kids have been through this year, Guy wants to treat them to a special Christmas with lots of presents and a big tree. He is planning on having a traditional turkey dinner with all the trimmings. Madonna doesn't really like Ashcombe but thinks it is important to put on a united front for the kids."
Guy, 40, and Madonna, 50, were reported to have been arguing over who would have the children for Christmas.
The pop superstar was initially said to be determined for Rocco, David and Lourdes to spend the holidays with her in New York, while Guy always wanted them to come to the UK for a traditional celebration.
Although the pair were granted their decree nisi – the first stage of their divorce – last month and have reached a financial settlement, they are still yet to agree on where their children will live.
The pair share custody but Madonna wants her sons and daughter to live with her in New York, while Guy is adamant he wants Rocco to grow up in London.
Comments
comments