Madonna has spoken to Guy Ritchie for the first time in weeks in a emotional late-night phone call to plead with him to settle their divorce amicably.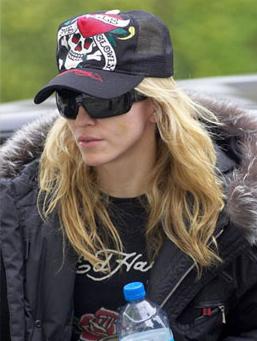 The emotional call came after her spiritual leader Rabbi Berg gave the couple a deadline to mediate through their Kabbalah bosses to save face for the religious sect.
The call came to Guy on Tuesday evening and in it Madonna spoke lovingly of all the wonderful things about their marriage – centering on the children they had together. It had been the first time they had spoken directly to one another since the divorce was announced.
A source, which was close to the couple, revealed: "It was a very emotional call and a sign of the desperation Madonna feels for them to settle before things start getting more serious legally."
The source continued: "Madonna tried to encourage Guy of all the good times, said how they must settle before it got any more messy and public. She said she had always worked so hard to provide for the family. She said she had been saddened by some of the criticisms of her which appeared to have come from his camp."
The source added: "She said the leaks of hurtful stories would only get worse. Guy stayed quiet for most of the call, gave very little away and at the end said it was now in the hands of the lawyers."
According to the source, after the call, Madonna cried openly in front of her staff for the first time since their divorce was announced. She is worried it may now go to court as they cannot agree on access to the children and Guy is being stubborn over his wish to have Rocco, seven, and David Banda, three, brought up in Britain.
Comments
comments