Zac Efron was offered by Ellen DeGeneres to get his hair cut during a scheduled appearance on "The Ellen DeGeneres Show", which aired Thursday, October 30.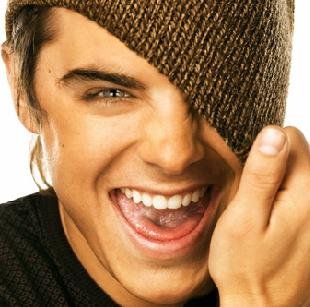 The talk show host even pulled out a clippers and asked the young actor if he would like to get a brand-new, short haircut.
Zac Efron joked that he modeled his hair after hers, saying: "I actually modeled it [after] Ellen season 2." Ellen DeGeneres replied: "Smart. So you're copying me?"
The High School Musical heartthrob admitted: "I am in fact."
Ellen DeGeneres also told Zac that she also talked about his hair with his actress girlfriend Vanessa Hudgens during a recent taping.
She revealed: "Vanessa [Hudgens] was here a few days ago and she said she actually prefers it slicked back more with stuff in it. But then it's hard for her to put her hands in your hair because it's to full of stuff. She prefers it slicked back just to let you know."
Zac, furthermore, confessed that his windswept style was partially "derived from laziness." Then Ellen surprisingly pulled out a clippers and asked: "Would you cut it? That would be a big deal if you had a brand-new, short haircut, because people then would want to do that."
Zac Efron hesitantly asked: "Do you want to take a little off the back? It's a little long actually." However, Ellen quickly responded: "No, there's no blade in it. It was just to scare you. It's Halloween and I like to scare people."
Comments
comments