Madonna is having Kabbalah "anger management" counseling to deal with her rage at estranged husband Guy Ritchie.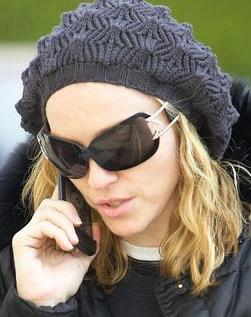 The pop icon has been accompanied on the North American leg of her "Sticky and Sweet" tour by a counselor representing the mystical offshoot of Judaism, of which she is a follower.
A source revealed: "She has turned to Kabbalah to sooth her rage, and is getting intense counseling on the road and at the Kabbalah Center in New York. The counselor is telling her she will meet her soulmate – but first has to calm her anger."
Madonna, 50, is reportedly set to fly from Toronto – where she performed on October 23 to New York this weekend to visit the city's Kabbalah center. She was spotted leaving the same center during another short break in her world tour last week.
The source continued: "Madonna is very angry with Guy – about his cold treatment of her in the marriage, about the nasty details of their marriage that have leaked out, and about the money he is demanding. She's furious that he feels entitled to get a lot of cash, while she's the one working her ass off on tour."
The source added: "She is getting help from a Kabbalah counsellor who is helping her try to put aside her anger, so they can settle the divorce as quickly as possible for the sake of the children. The counsellor is telling her she will meet her soulmate – but first has to calm her anger."
Madonna has claimed the British film director "emotionally abandoned" her, and friends believe the turning point in their marriage came with Guy's allegedly unsympathetic reaction after she fell from a horse in 2005, breaking several bones.
Rumors linking Madonna to New York Yankees baseball star Alex 'A-Rod' Rodriguez were fueled last night after it was reported he was to fly out and see her perform in Toronto.
Comments
comments