Maggie Gyllenhaal, who looks like a Fifties screen starlet in the ad, posed in a swimming pool and featured as the face and body of upmarket lingerie label Agent Provocateur.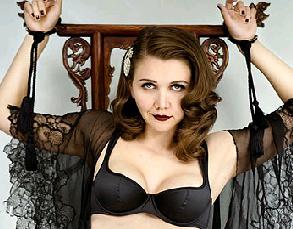 The indie actress, who has a baby daughter, wears a turban, diamond drop earrings and sexy smalls. She also wears suspenders and splashes about in the bath.
Serena Rees, co-founder of Agent Provocateur, revealed that the sultry brunette was chosen for the campaign because, "she's not an obvious sex symbol".
She added, "Maggie's interesting looking, confident and beautiful in a way that is non-threatening, which makes her appealing to men and women alike."
You could see another sexy picture of Maggie here