Marilyn Monroe, whose photograph snapped by Bert Stern at the Hotel Bel-Air, in Los Angeles, followed Frank Sinatra's advice and kept her life inside two filing cabinets—letters, invoices, financial records, and the mementos that meant the most to her.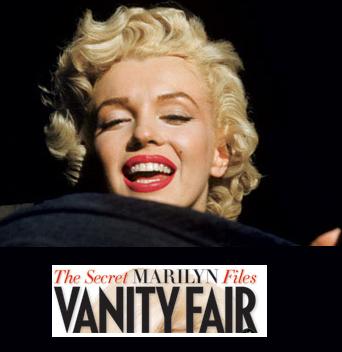 After her tragic death, in 1962, at the age of 36, the cabinets were stashed away by the actress's business manager, Inez Melson.
This secret trove would remain virtually unknown to the world for more than four decades, until photographer Mark Anderson began an epic two-year project of documenting it. His photographs, made public for the first time, offer new insights into the life of Hollywood's most iconic figure.
During the 48 hours after Marilyn Monroe's death, while the police were busy taking statements and photographs, Melson removed papers from the filing cabinets and stuffed them into a shopping bag. She also called the A-1 Lock & Safe Company to change the lock on one of them.
Marilyn Monroe's will, filed for probate on August l6, established a $100,000 trust to provide her mother with $5,000 per year and Mrs. Michael Chekhov, the widow of one of her acting coaches, $2,500 a year. She left $10,000 to her half-sister, Berniece Baker Miracle; $10,000 to her former secretary and friend, May Reis (with a provision that she could inherit more); and $5,000 to the playwright and poet Norman Rosten and his wife, Hedda. Curiously, she left 25 percent of the estate's balance to further the work of her New York psychiatrist, Dr. Marianne Kris, who had disastrously incarcerated her, briefly, in a padded cell in New York's Payne Whitney Clinic in 1961, when Monroe was suffering from insomnia and exhaustion.
There are 586 unseen artifacts, which were considered as mystery unlocked, includes: the items put up for auction in November 1963 as "Personal Property Likely to Depreciate in Value," the increasingly importance of Joe DiMaggio in her life again even after divorce, her mother issues such as schizophrenia and was institutionalized off and on throughout her life, Inez Melson as a key figure in the actress's legacy, the intimate letters she wrote to Arthur Miller's children are playful, poignant, and intimate and letters to friends are gracious, witty, and courteous, if occasionally slow in getting back to them, etc.
Check out the latest Vanity Fair magazine October 2008 for their cover story: "The Things She Left Behind."
Comments
comments