Senator Barack Obama's long lost brother has been tracked down for the first time living in a shantytown in Kenya, according to the reports.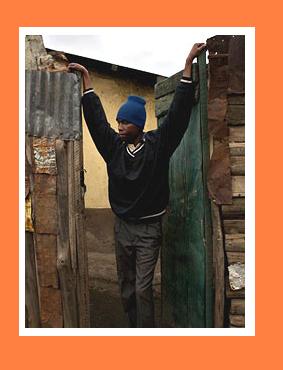 The Italian edition of Vanity Fair featured George Hussein Onyango Obama, who was living in a hut in a ramshackle town of Huruma on the outskirts of Nairobi.
The 26-year-old Obama, who was believed to be the youngest of the presidential candidate's half-brothers, spoke for the first time about his life, which could not be more different than that of the Democratic contender.
He claimed: "No-one knows who I am. I live here on less than a dollar a month."
His humble abode is a two metre by three metre shack, which has a décor of the football posetrs Italian football giants AC Milan and Inter. A calendar showing exotic beaches of the world also adds up to his wall, according to the Italy's Vanity Fair magazine.
He had a front-page newspaper picture of his famous brother, born of the same father Barack Hussein Obama, but to a different mother, named only as Jael.
He said: "I live like a recluse, no-one knows I exist."
He also revealed that he did not mention his famous half-brother in conversation because he felt embarrassed by his penury, saying: "If anyone says something about my surname, I say we are not related. I am ashamed."
For ten years George Obama lived rough. However he now hopes to try to sort his life out by starting a course at a local technical college.
On meeting his famous older brother, he shared that he only met him twice – once when he was just five and the last time in 2006 when Senator Obama was on a tour of East Africa and visited Nairobi.
The Illinois senator mentions his brother in his autobiography, describing him in just one passing paragraph as a "beautiful boy with a rounded head".
George Obama described their second meeting as "very brief, we spoke for just a few minutes. It was like meeting a complete stranger."
He concluded that he was no longer in contact with his mother, adding: "I have had to learn to live and take what I need. Huruma is a tough place, last January during the elections there was rioting and six people were hacked to death. The police don't even arrest you they just shoot you. I have seen two of my friends killed. I have scars from defending myself with my fists. I am good with my fists."
Comments
comments