Megan Fox graces the GQ magazine October as the issue is surely hits the newsstands with her two sultry cover poses but only one of them comes with the stamp of approval from the Transformers star.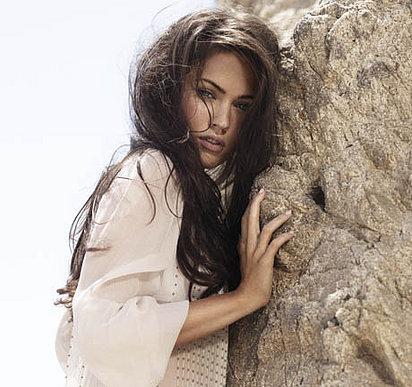 That's the tongue-across-the-teeth, barely-there-bikini picture gracing the October issue of GQ, in which the 22-year-old stunning actress makes no apologies about her movie roles. You could see more pictures here.
The actress revealed: "If I get stuck doing comic book films for the rest of my life, I'll be really happy. I love those types of movies. And I don't mind being sexy – if it's a character with a back story and an arc and something progresses."
When the actress turned 18 that's the time she started getting her tattoos (she now has seven), she recalled: "I was just careless. I would get myself into situations that were very bizarre—situations any logical person would not have gotten themselves into."
On posing for the magazine, Megan Fox shared: "I am very excited to be involved with GQ, as it is such a great magazine."
Here is the highlights of the interview:

On being famous, she explained: "I've done one movie. And it's not a movie I want to stand on as far as acting ability goes. I mean—I'm not going to win an Oscar anytime soon. I'm not Meryl Streep."
On the possibility of being a lesbian, she revealed: "I just think that all humans are born with the ability to be attracted to both sexes. I mean, I could see myself in a relationship with a girl— (OC star) Olivia Wilde is so sexy she makes me want to strangle a mountain ox with my bare hands. She's mesmerizing. And lately I've been obsessed with Jenna Jameson, but.… Oh boy."
On internet gossip, she declared: "The other day, I said I eat a lot of cake, and that was the top story on Yahoo!"
Her reaction with Miley Cyrus' and Vanessa Hudgens' photo controversies, she added: "I would never issue an apology for my life and for who I am. It's like, Oh, I'm sorry I took a [email protected], private picture that someone… sold for money… You shouldn't have to apologize. Someone betrayed Vanessa, but no one's angry at that person. She had to apologize. I hate Disney for making her do that."
Meanwhile, Megan Fox is also on the cover of Maxim, but her representative say the magazine proceeded without her cooperation, purchasing older photos that already have run in other magazines.
A Maxim representative added: "Megan Fox is a talented actor and a favorite of our 13 million readers and we're pleased to recognize her accomplishments in the October issue with this beautiful photo portfolio."
Comments
comments