Michael Jackson will be buried in a $25,000 (?15,300) gold casket in a funeral that is set to fulfil his own prophecy by becoming the greatest show on Earth.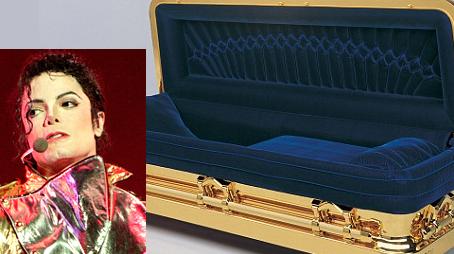 The coffin, a rare design called the Promethean, is made of solid bronze but is 14-carat gold-plated with a hand-polished mirror finish and lined with velvet.
It was ordered last night from America's Batesville Casket Company and is identical to the coffin used to bury James Brown in 2006, according to TMZ, the website which first broke the news of the King of Pop's death.
Jackson's memorial service will take place on Tuesday at the LA Lakers basketball stadium, the Staples Center, where he rehearsed for his scheduled comeback concerts at The O2 just two days before his death.
The Center has a 20,000 capacity and the family is planning to distribute 11,000 tickets free to the general public.
Big screens outside the venue will relay the events inside to around one million people who are expected to assemble to pay their respects from 10am onwards.
The memorial will feature performances and tributes from a host of music and acting legends and will open with a parade of circus animals, including tigers and elephants walking trunk to tail – part of LA's annual Parade Of The Elephants.
The parade, devised by The Ringling Bros Barnum And Bailey Circus, which has had to postpone it show at the Staples Center.
A spokesman for the circus said Tuesday's event would be the 'greatest show on Earth', exactly the phrase Jackson used in 2002 when asked what he thought his funeral would be like.
Eerily, Jackson replied: 'It's going to be the greatest show on Earth. That's what I want. Fireworks and everything.'
Among the guests expected to attend the memorial service are Diana Ross, Elizabeth Taylor and Sir Paul McCartney.
After the memorial, there will be a private ceremony at Forest Lawn cemetery in Hollywood which will be attended by family and close friends only.
But Jackson's long-term friend and producer Quincy Jones said that he will not be going. He said: "No. I'm not going to the funeral. I don't wanna go to no funeral. It's not what I want to see."
Randy Phillips, chief executive of AEG Live, which owns the Staples Center and was Jackson's promoter, confirmed tickets would be free, but could not say exactly how they would be distributed. "As we speak, we're working on the details," he said.
The Barnum & Bailey Circus spokesman said the company was happy to help in 'exceptional circumstances' .
Comments
comments