One of the photos taken in the late singer's rented Holmby Hills, California mansion, reveals a shocking evidence.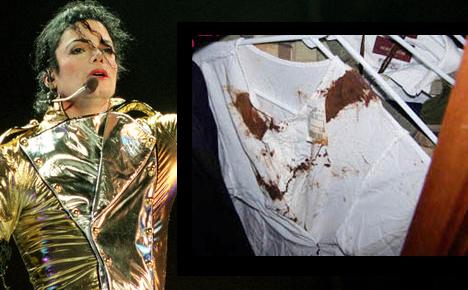 A new speculation of Michael Jackson's cause of death emerges as a picture of bloody shirt inside his closet is found. A white shirt, similar to the ones that the King of Pop frequently uses, is smeared with red stain and hung in the closet with the price tag still attached. Presumably, the shirt was used to wipe blood instead of worn.
The shocking photo is one of the pictures taken by investigators inside Michael's mansion shortly after he died of cardiac arrest on June 25. Other photos, which are all acquired by RadarOnline, also include the bed where Dr. Conrad Murray tried to revive Michael, and other rooms such as the kitchen and the bathroom.
The closet in the photo reportedly also reveals more than just a bloody shirt. Dr. Murray allegedly kept a large amount of powerful anesthetic Propofol and I.V. equipment in the space. Investigations are still undergoing to determine whether the personal physician to Michael is illegally supplying him the drugs.
The results of Michael's autopsy is not yet released.
Comments
comments