Robert Pattinson was seen driving away from Kristen Stewart's house in Los Angeles Thursday afternoon.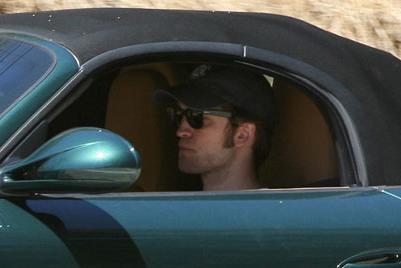 Sporting his trademark black cap, the Twilight hunk made off in a convertible green Porsche. The roof, in case you care, was up. Looking dashingly handsome in his trademark sunglasses, the Twilight star calmed steered his sports car away from lovely Bella's house but kindly kept the window open so that the fans could check him out!
The British actor — who flew in from New York where he was filming his new movie Remember Me — touched down in Los Angeles on Tuesday.
Could Rob's visit to Kristen — who's in town filming upcoming Joan Jett biopic The Runaways — be a last-ditch attempt at saving their relationship?
Recent reports claimed Rob was dumped by Kristen, 19, when the pair reunited on July 23 at the Comic-Con convention in San Diego. Stewart has apparently rekindled her romance with her longtime boyfriend, actor Michael Angarano.
"Rob is stunned," an insider recently said. "He thought he could come back to California and get Kristen to forgive him, but he was wrong.
"Rob fought hard to steal her away from Michael. And now he has to do it all over again!"
Meanwhile, actress Kirsten Dunst reportedly has a crush on Pattinson.
"Kirsten is absolutely infatuated with Rob and thinks he would be the ideal boyfriend," an insider told American tabloid the National Enquirer.
"She thinks they would have a lot in common."
Comments
comments