Paris Michael Katherine Jackson reportedly has discussed with Janet Jackson about her desire to record a tribute song for her dad Michael Jackson.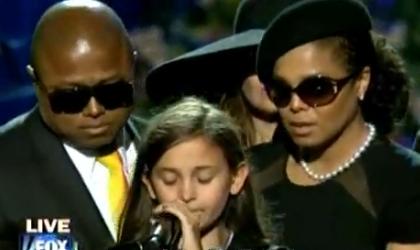 Michael Jackson's daughter, Paris Michael Katherine Jackson, is rumored to have an interest of hitting studio and recording a tribute track for the late singer. The 11-year-old girl reportedly comes up with such idea because she is inspired by star-studded performances from the likes of Mariah Carey and Stevie Wonder at Michael's memorial service.
"Paris was overwhelmed. She never comprehended the scope of his fame," a source tells The Sun. Paris is said to have discussed her plan with her singer aunt Janet Jackson. However, "the Jacksons are very reluctant. But she's convinced it's a good idea," the source adds.
Paris Michael Katherine Jackson took the stage of Los Angeles' Staples Center during Michael Jackson's public memorial service on July 7, showing her love to the late King of Pop. She delivered a tearful speech, "Ever since I was born, Daddy has been the best father you could ever imagine. I just want to say I love him so much."
Comments
comments